The 104th Trainees Squad is the only graduating class introduced in the series and the Southern division contains nearly all of the central characters. It was active during the years 847 through 850 when the remaining recruits graduated.
The top ten of the class, those with the best grades, included, in order: Mikasa Ackerman, Reiner Braun, Bertolt Hoover, Annie Leonhart, Eren Yeager, Jean Kirstein, Marco Bott, Connie Springer, Sasha Blouse and Krista Lenz. As with all graduating classes, only those in top ten can apply to the Military Police Brigade, giving them the privilege of living in the Inner District. The 104th was disbanded at the end of the graduation ceremony.[1]
Another one not in the top ten, but is considered in it, is Ymir. Her abilities are rumored to easily surpass Krista Lenz's, but during the final weeks of being a part of the 104th Trainees Squad, Ymir began slacking off to ensure Krista's spot in the top ten and allow her access to join the Military Police.[2]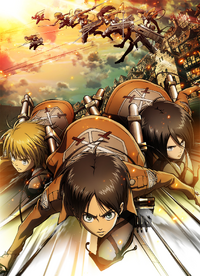 Instructor Shadis' Individual Trainee Evaluations
Edit
English Dub
Edit
References
Edit