Oluo Bozado
Talk

10
307pages on
this wiki
Oluo Bozado (オルオ・ボザド, Oruo Bozado?) was a hand-picked soldier from the Survey Corps by Levi to be included in the Special Operations Squad. He was a skilled soldier with a very high Titan kill record.
Personality
Edit
Oluo is a very self-confident, outspoken individual, and enjoys boasting about his own prowess. Despite his obnoxious demeanor, he is the best out of Levi's Special Operations Squad; his 39 solo kills (highest solo kills out of his peers, bested only by Levi) fuels his haughty nature. Oluo serves as a kind of comic relief, as his cocky nature is rarely taken seriously, and he is also shown to be somewhat clumsy, frequently biting his own tongue on accident.
He also casually attempts to imitate Levi, such as his rough speech and confident attitude, which causes him to be at slight odds with Petra.
Oluo enlisted into the Survey Corps sometime after the fall of Wall Maria. At some point before the Battle of Trost, Oluo was saved from a Titan by Levi.
Oluo was hand-picked by Levi to form a Special Operations Squad alongside Petra, Erd, and Gunther. Their task was to safeguard Eren during missions and, if necessary, to kill him should he lose control of his Titan powers. Oluo gave Eren a hard time, making clear that he would not trust the newcomer easily.
During the Survey Corps' 57th Expedition, Oluo's duty was to protect Eren, and, along with the rest of the squad, was left in the dark of Commander Erwin's true objective, which was to capture the Female Titan. Eventually, Oluo and the rest of the squad came to blows with the Female Titan. Though they fought fiercely, Oluo's teammates were quickly killed, leaving Oluo to fight alone. Enraged by the deaths of his friends, Oluo fought to the very last, but he, too, was eventually overwhelmed and killed.
Abilities
Edit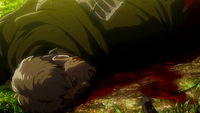 He was a very skillful warrior who has an impressive Titan kill record of 48 kills: 39 solo kills and 9 team kills. Despite being very competent at slaying Titans alone, Oluo was fine-tuned to work in coordination with the rest of the Special Operations Squad, and together, they could launch coordinated strikes without so much as speaking.

Oluo Bozado's Statistics[1]:
| | | |
| --- | --- | --- |
| Battle Skill | | 9/10 |
| Agility | | 6/10 |
| Strategy | | 5/10 |
| Teamwork | | 5/10 |
| Foul Mouth | | 10/10 |
Relationships
Edit
References
Edit
↑

Shingeki no Kyojin Guidebook: INSIDE