Erwin Smith
Talk

30
357pages on
this wiki
Erwin Smith redirects here. For other uses, see Erwin Smith (Disambiguation).
---
Erwin Smith (エルヴィン・スミス, Eruvin Sumisu?), sometimes known as Chief Erwin, is the former 13th commander of the Survey Corps. Far-thinking, intelligent, respected, Erwin was an able commander, and while he cares as deeply for his men, he would not hesitate to sacrifice them for the future of mankind, and his men have proven more than willing to stake their lives at his order. He developed the "Formation for Long Distance Enemy Detection".
Appearance

Erwin has a commanding presence. He stands at 6'2", with his blond hair kept neatly parted on the left side. Erwin always wears a calm, collected expression on his face, his icy blue eyes being one of his most striking features. His eyebrows are also quite noticeable, being very thick and bushy.
Erwin typically dresses in the standard military uniform, donning the Survey Corps' signature green cape when on missions. He also wears a small, emerald bolo tie around his neck just like the other military commanders, Nile Dok and Dot Pixis.
Following the second appearance of the Armored Titan, Erwin has lost his right arm just below his shoulder.
Personality
Erwin is portrayed as serious, calculating, seeing and planning far for the future. While he trusts his men, he is the first to realize that there is a spy interfering with the Survey Corps and arranged for his/her capture. He is an eloquent speaker, able to sway many people, such as the war tribunal held to judge Eren and the trainees choosing recruitment branches to join.
Erwin is very grim. He accepts all news, good or bad, mockery or praise, with the same attitude because he knows his objectives and will follow through with them. His ultimate goal is for humanity to once again rise up and become the dominant species; a goal he is willing to sacrifice anything for. Even with his arm caught in a Titan's mouth he ordered everyone to save Eren.[2]
He shares this unique stoic quality with men such as Head Administrator Dot Pixis, squad leader Ian Dietrich and Commander-in-Chief Darius Zackly. As Armin puts it, Erwin, like the aforementioned three men, has the ability to send his men to die if it will further the cause of humanity. He and they will sacrifice their own humanity in order to bring change to a world where those who cannot sacrifice things important to them will not change anything. Since he is able to do that he is a master strategist, shown multiple times through actions like capturing the Female Titan and leading a group of titans to distract the Armored Titan so he could save Eren.
History
Erwin's father was a brilliant teacher, but also intensely curious about the mysteries of the world. Erwin was among the students taught in his classroom, and during a lesson on the history of Humanity, he asked a question that his father could not genuinely answer. Later that evening, his father secretly shared with him a heretical theory: the official text books distributed by the government contained many contradictions. All knowledge of the outside world was declared Taboo 107 years prior, but even that would not have prevented the first generation from telling their children stories. He had concluded that the first generation's memories had been altered, allowing the monarchy to control them better.
Innocent of the danger, Erwin shared this theory with other children. This drew the attention of the Military Police's 1st Brigade, who approached him and inquired about his father's theories. Later that day, his father was killed in an accident in another town. However, Erwin correctly guessed that his father had been murdered for getting too close to the truth. From then on, he devoted his life to proving his father's theories true.[3]
Towards this end, he would enlist in the military and join the Survey Corps. During training, he became friends with Nile Dok. He would serve as a trusted officer to Commander Keith Shadis, eventually taking his place when the other retired and became an instructor. During his time as an officer before the fall of Wall Maria, he fought alongside notable soldiers such as Mike Zacharius, and eventually, Levi.
Story
Erwin is first introduced taking part in the latest scouting expedition before the fall of Wall Maria. Bystanders are wishing him good luck as he embarks.[4]
He is later formally introduced when the Survey Corps is clearing a town inside Wall Maria. They discover Titans are moving north, towards the Trost District of Wall Rose. Fearing a breach, they head to Trost District and narrowly save a trapped Eren, Armin, and Mikasa after their mission to block the hole is complete.[5]
Erwin next appears when Eren recovers from his three day coma and is kept in a jail cell beneath the military court. He explains to Eren that his Titan powers have caused an uproar within the walls. He has taken the key to Eren's basement and asks if the secret to Titans is located in the basement, to which Eren replies that he thinks it is. Erwin then formulates a plan to use Eren's Titan form to retake Wall Maria so they can investigate the basement.[6]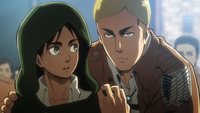 He appears at the trial of Eren Yeager and argues that Eren should live, in direct opposition to Nile Dok. He then makes a proposal that Eren be entrusted to the Survey Corps so that they can determine if he is helpful, which Darius Zackly agrees to. He welcomes Eren into the Survey Corps and shakes his hand.[7]
After the death of the Titan research subjects, Bean and Sonny, he tests everyone in the Survey Corps by asking them a direct, but confusing question to gauge their reactions. When this turns everyone innocent, he begins planning the next expedition to capture the spy, guessing they have abilities similar to Eren and are intent on sabotaging the expedition.[8]
Erwin later appears at the recruitment drive where the 104th Trainees Squad choose their path. He makes an impassioned plea that the Survey Corps and Eren represent the hope of humanity, although he is very realistic in telling them that a sizeable number of them will die. His speech and other factors succeed in recruiting every remaining member of the top 10 graduates except Annie, who joins the Military Police Brigade.[9]
Erwin leads the 57th expedition and deploys his Formation for Long Distance Enemy Detection to ensure that casualties are kept to a minimum. After the Female Titan appears and decimates part of the group, he enters a Forest of Giant Trees and sets up a trap in order to capture her. [10] She chases after Eren and kills many Survey Corps members but does fall into Erwin's trap and is unable to move. [11] After Levi provokes her and she summons Titans to come eat her, he orders all soldiers to defend her. However, the loss of life is increasing at a massive scale and Erwin is forced to order a retreat and surrender the Female Titan.[12]
For the costly failure of this mission, Erwin is blamed and summoned to the Imperial Capital to explain. However, he trusts Armin's gamble that Annie Leonhart is the Titan and orders her covert capture en route to the meeting. After arriving in the capital to coordinate the plan with Levi, he is questioned by Nile Dok who orders his troops to support the operation.[13]
She is eventually apprehended and Erwin goes into an emergency meeting held to sort out the day's events. He manages to convince the council that despite the expedition failure and subsequent death of some civilians in the inner city, they finally catch the female-type Titan successfully and this indicates that there must be more of her kinds hiding among them.
Erwin next appears on top of Wall Rose, telling Dot Pixis that the government has sent members of the Military Police to assist the Survey Corps and Garrison, in dealing with the breach of Wall Rose. A Garrison member arrives and informs Pixis that their is no breach in wall Maria. He also tells the assembled group that three more Titan Shifters have been identified, Reiner, Bertolt, and Ymir. He quickly gathers soldiers from all three military branches and heads for the scene of battle.[14]
Erwin arrives with the combined military forces but is 5 hours too late to save Eren. More soldiers agree to join him on the expedition and Hange Zoë informs them that they are most likely in a forest of giant trees, still within Wall Maria. With this information in hand, Erwin deploys the Formation for Long Distance Enemy Detection and sets off to rescue Eren.[15]
Upon sight that Eren has been captured by Reiner, Bertolt and Ymir he orders all squads to go ahead with him and let the Titans follow them, much to the dismay of the fellow Soldiers who call him a monster believing he uses them as decoys. Erwin assures them that is not his intention, and claims that the Military Police fights admirably and that his men should fulfill their duty as soldiers.[16]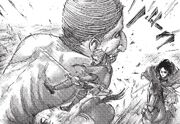 As the 104th were reunited they along with Hannes watch in shock as Erwin leads a pack of Titans right to them. The group is forced to briefly retreat and watch as the Armored Titan is overwhelmed by the horde. Erwin orders them to head into battle, stating that humanity has no future if Eren is lost. However, as he leads the charge a Titan manages to catch him by his right arm and drags him from his horse. He orders the others to continue the mission, while a handful stay behind to fight the Titan chewing on him.[17]
His fate is revealed a short time later, when he manages to ambush and wound Bertolt. This allows Eren to be rescued, and Erwin immediately orders all surviving forces to retreat. Though still alive, his right arm has been severed just below the shoulder with a makeshift tourniquet secured around the stump. Ignoring his injuries, he continues to command the mission.[18] The retreat fails, however, when the Armored Titan panics and begins to throw Titans to block their path. The retreat and the mission to rescue Eren ultimately succeeds in the end when Eren unknowingly uses his powers to control other Titans to attack the Armored Titan and Bertolt.[19]
A week later, recovering in a hospital, Erwin learns from Hange that the Titans they have fought within Wall Rose were very likely once human. Erwin is briefly shaken by this revelation, but quickly regains his composure, resolving to continue with plans to retake Wall Maria and seek out those who know the secrets of the walls.[20]
Once released from the hospital, Erwin heads to the capitol to meet with officials concerning Eren. He meets with Nile Dok for the carriage ride over, and the two briefly discuss their past friendship. Erwin questions whether handing Eren over would end the current crisis, and provides Nile with a vague warning that obeying orders may not align with protecting his family.[21]
Unsatisfied with the results of his meeting, Erwin goes to meet with Dot Pixis and proposes that the military stage a coup d'etat.[22] The two commanders discuss the risks involved with such a plan, including the potential bloodshed and being executed as traitors if it fails. Erwin states his intentions to simply replace the King rather than killing him, but asks Pixis to wait with him for confirmation of the final piece of the plan. In the meantime, he recounts the events of his childhood that shaped the course of his life. Based upon his father's theories, and the evidence they have gained concerning the Titans, the Walls, and Eren's powers.....he concludes that 107 years ago, the memories of humanity were altered to erase knowledge of the outside world.[23]
A messenger arrives with a note for him, confirming the final piece necessary for their revolution. Erwin proposes that they dispose of the King and replace him with Historia Reiss, the bastard child of the "true" rulers of humanity. [24] Nifa then reveals that she was present at Erwin and Pixis' meeting and tells Levi's squad, along with Dimo Reeves and his son, that Erwin has formulated a plan to have Eren and Historia captured so that they can find Lod Reiss. Once they find him, they will force him to answer questions about his true intentions and will replace him with Historia if his answers are not sufficient.[25]
The following day, Erwin is still in the same house located in Trost District when Hange bursts in. She explains to Erwin that Eren remembered details of his kidnapping and that their plans must be altered. She explains how Ymir was a regular Titan who gained the ability to shift after eating Marcel, she then draws the conclusion that Lod Reiss intends to eat Eren in order to gain his 'coordinate' abilities. Erwin speculates why Historia is so important since she is a bastard child and never took vows with the wall cult, which he believes is connected to the royal family. He is then informed that the Military Police is looking for him on charges of murder. Due to this, he appoints Hange the new commander of the Survey Corps and decides that Levi is best equipped to deal with his squad himself. He heads outside by saying that Pixis refused to help in their revolution.[26]
Once outside, an older looking military police member questions Erwin about the death of Dimo Reeves and accuses the Scouting Legion. He believes that they wanted to rescue Eren Yeager and thus committed these crimes. He subsequently orders that the scouting legion cease all activities and informs Erwin that the Military Police are now in charge of it. Erwin looks at Reeves and comes to the correct conclusion that it was carried out by the First Military Police Brigade, before promising to avenge his death. He then enters the carriage and is taken away by the military police.[27]
A member of the Military Police captured by Levi's squad claims that the Survey Corps is finished and that only by surrendering can Levi save Erwin from being the first one executed. His words later appear to be true as an injured Erwin appears before the King, who asks him if he has any last words.[28]
Abilities
Erwin Smith's Statistics[29]:
| | | |
| --- | --- | --- |
| Battle Skill | | 9/10 |
| Initiative | | 10/10 |
| Strategy | | 10/10 |
| Teamwork | | 7/10 |
| Collectedness | | 10/10 |
Trivia
He was attributed with the literal title of "leader of the [Scouting] Legion" (団長 danchō), often translated as "Commander".
Erwin's motif was based on Adrian Alexander Veidt/Ozymandias, a character from Watchmen. [citation needed]
Another influence for the character appears to be Erwin Rommel who was known as the 'Desert Fox'. They share first names and the significant date of October 14th, which was Rommel's death and Erwin's birth. Rommel was a famed German Field Marshall from WWII and was noted for his exceptional skills as a commander and his willingness to defy his superiors' unjust orders. He was partially involved in the failed plan to assassinate Adolf Hitler, but was so enormously popular that it was necessary to eliminate him quietly. After being forced to commit suicide, the German government falsely claimed that his death was a result of the injuries he sustained during a strafing of his car. He was given a funeral with full state honours and proclaimed a national hero.
According to Hajime Isayama, Erwin is single because he's not certain when he will die.[30]
Isayama revealed his nickname as a child was "Eyebrow". [31]
References