Jean Kirstein
Talk

4
300pages on
this wiki
Jean Kirstein

Anime

 | 

Manga

Name
Jean Kirstein
Kana
ジャン・キルシュタイン
Biological Information
Gender
Male
Age
15
Birthday
April 7th[1]
Height

175 cm

Weight

65 kg

Affiliation
Survey Corps
Former Affiliation
104th Trainees Squad
Grad Rank
6th
Species
Human
Status
Alive
First Appearance
Manga
That Day
Anime
That Day
Seiyū
Anime
Kishō Taniyama
Image Gallery
Jean Kirstein (ジャン・キルシュタイン, Jan Kirushutain?) is a graduate of the 104th Trainees Squad and graduated in the top ten of his class. Being Eren's rival and often at odds with him, he serves as the series' foil character.
Personality
Jean's most notable trait is that he speaks whatever is on his mind, even when he knows it would not be wise to do so or that it would cause conflict. This, along with their differing viewpoints, is the cause of his conflicts and rivalry with Eren. Nonetheless, he is an honest individual. Marco noted that Jean had an understanding of weakness, which he claimed allowed Jean to accurately judge situations in the heat of the moment. Marco believed that this understanding makes Jean a good leader.
Story
104th Trainees Squad arc
As part of the 104th, he ranked in the top ten of its graduates, placing just under
Eren Yeager
and coming in at sixth. After the graduation ceremony, he got into an altercation with Eren, who he seems to be very competitive with. As a self-described realist, his ideas and outlook initially conflict with Eren's more idealistic views.
It was revealed that during another altercation, Eren, upon learning that Jean's behavior was similar to his own at one point, learns to control his emotions as a soldier. After learning one of Annie's techniques in hand-to-hand combat, he uses it on Jean after confronting him for his beliefs. [2]He states that he became part of the top ten so that he could join the Military Police Brigade and live within the Inner District in relative safety and comfort.
Battle of Trost District arc
After the second attack of the Colossal Titan, he, like many others, was eventually sent to the front to deal with the Titans that had entered the city. However, due to the supply shortage, he was unable to fight at first. With the arrival of Mikasa, he and the rest of the group rush towards the HQ to resupply. When Mikasa runs out of gas, he takes the lead. When another soldier runs out of fuel, he takes advantage of the distracted Titans and orders the remainder to finish the remainder of the trip. He second guesses this decision when he realizes that he and the group only made it because he took advantage of the deaths of his teammates.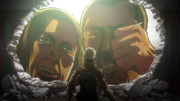 When he sees the resupply team, he strikes one in anger, telling them they are responsible for the soldiers being killed. Soon after, Mikasa, Armin and Connie arrived with the help of the rogue Titan. Still having to deal with the Titans in the headquarters, he was in the second group in Armin's plan to clear the supply room.
After resupplying, he stayed back with Reiner and Annie. After Reiner suggested helping the Rogue Titan out, Jean was hesitant, as they had just barely escaped with their lives and he was unwilling to risk it again for a Titan. Fortunately, they didn't have to, when the Titan broke itself free in order to attack another Titan, collapsing soon after. He ended up being one of the first people to know about Eren's Titan transformation, when he emerged from the fallen rogue Titan.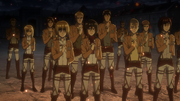 In the aftermath of the battle of Trost, Jean finds the body of his friend, Marco, in which Jean is clearly disturbed by the sight. Later he and the rest of the 104th trainees burn the corpses of their fellow comrades in a bonfire. During this moment, Jean remembers Eren's speech, and Marco's compliment about his mental strength. Mourning over Marco's death and internalizing his words of encouragement, he asks the other trainees which branch of the military they're planning to join, at which point he clenched his fist and, against his own wishes and fears, Jean declares that he would join the Survey Corps. During graduation, despite fearing what might happen to him in the future as he would inevitably encounter more Titans, he joins the Survey Corps instead of the Military Police Brigade.
The Female Titan arc
After joining the Survey Corps, Jean confronted Eren regarding his role as humanity's savior, declaring that he's putting his trust in him as he does not wish to die while not knowing what he's fighting for. He participates in the 57th Expedition of the Survey Corps. He was later chosen to pose as Eren because both have similar bad attitudes and eyes. [3]
At Eren's bedside, Jean finally learns about Annie being the Female Titan from Armin and she's encased in a crystal to avoid interrogation. He also finds out that about the Titans similar to the Colossal Titan inside the Walls being used due to their hardening abilities. Jean and Armin heads down to the meeting between Commander Erwin Smith and the head of the Military Police Brigade.[4]
Clash of the Titans arc
When Jean reappears and is outraged when he learns of Reiner and Bertholdt's betrayal and their secret correspondence with Annie. He also learns about Ymir being a Titan shifter and that both she and Eren are taken hostage. Outraged and determined to stop his traitorous teammates, Jean readily takes his stance with the Survey Corps, Military Police Brigade and Stationary Guard. [5]
He later observes another soldier being devoured by a Titan, noting that it was once again a member of the Military Police Brigade. When the troops enter the forest in pursuit of the traitors, he is among the group that encounters Ymir in her Titan form. When she suddenly attacks and kidnaps Historia Reiss by swallowing her, Jean is the one to rally the other soldiers and order them to pursue Ymir into the forest. [6]
Abilities
Jean Kirstein's Statistics[7]:
| | | |
| --- | --- | --- |
| Battle Skill | | 9/10 |
| Agility | | 8/10 |
| Strategy | | 7/10 |
| Teamwork | | 5/10 |
| Cognition | | 10/10 |
Relationships
Marco Bott - Marco was Jean's closest friend and confidant. It was Marco who encouraged him accept his abilities as a leader, and his death at Trost had a life-altering impact on Jean. Marco was always there for Jean in times of need, whatever the case may be.
Eren Yeager - Eren and Jean share a very pronounced rivalry. Eren finds Jean's initial goal of living a safe, privileged life in the police force to be cowardly and disgusting. Jean on the other hand, finds Eren's eagerness to join the "suicidal" Survey Corps to be idiotic. Though the two often engage in fist fights, they could also be considered friends of sorts. It is hinted that Eren's closeness to Mikasa and Jean's subsequent jealousy partially fuels the two's rivalry. When he realized that Eren's potential as a Titan Shifter and the hope he represents to mankind, Jean put aside his enmity toward Eren.
Mikasa Ackerman – Jean seems to have a crush on Mikasa. The moment he met her, Jean became nervous and commented how her "black hair is beautiful." Jean is somewhat resentful of Eren because of the attachment Mikasa has with him.
Trivia
Jean's character design for the anime

Added by

MrGenial11

Hajime Isayama has said his favorite character is Jean.[1]
"Jean" is the French variant of "John", meaning "Blessed by God".
References