Levi
Talk

41
305pages on
this wiki
Great! This here is a Featured Article.

Levi has been featured, meaning it was chosen as an article of interest.
Levi (リヴァイ, Rivai?, often incorrectly romanized as Rivaille) is a leading soldier in the Survey Corps, and is said to be humanity's most powerful soldier. He was also the squad leader of the Special Operations Squad.
Appearance
Edit
Levi has short, straight black hair styled in an undercut and sharp, intimidating grey eyes. Belying his rather short stature, his physique is well-developed and heavy with muscle from extensive 3DMG usage. The slight furrow beneath his eyes are at odds with his otherwise youthful appearance. Aside from his constant frown, his expression is calm, and his unflappable demeanor oftentimes make it difficult to guess what he is thinking.   
He is most often seen in his military uniform, and wears it with the Survey Corps' green hooded cloak when embarking on extramural expeditions. When forced to take leave from his duties due to injury, Levi was seen donning a black suit, plain white shirt and dress shoes. Whether in civilian clothes or uniform, Levi is always seen sporting his trademark white cravat.
Personality
Edit
Levi is described to be a "clean-freak" by those who know him on a personal basis, as he tends to keep things spotlessly clean and cannot work in a messy environment. He hates getting blood and titan blood on his blade and often wipes his dirty blades while still on the battlefield. However, he will not hesitate to touch filth if he deems it necessary. Instances of this include him rescuing a phlegm-coated Eren from the Female Titan's maw, and grabbing a subordinate's bloody hand as he comforted him during his last moments. He is always seen wearing simple white cravat, which gives him the air of being "prim and proper".
Despite this pristine image, Levi has a cold and unapproachable personality. His manner of speaking is rarely polite, and he makes alienating comments that are coarse or inappropriate. His dark sense of humour, always delivered in deadpan, is rude and sometimes even vulgar. He tends to phrase things in a brash and insulting manner, and he is not above provoking his opponents or belittling anyone who irritates him. This often unsettles people and makes him difficult to be around.
While Levi respects order, structure and discipline, he also seems to hold a disdain for authority and the status quo. At Eren's tribunal, he insulted the Military Police and the Wallists, calling them "pigs" and noting that they were not capable of handling Eren. It seems he also holds an open resentment for the Military Police, presumably for their constant intereferance and attempts to undermine the Survey Corps. At one point, he mocks them by stating that they have never battled or had even seen any Titans, and suggests that they join the Survey Corps.
However, Levi has a soft side, though he rarely shows it. One of Levi's most defining characteristics is the great value he places on preserving human life. He himself has stated that he hates having unnecessary casualties, and advises his subordinates to properly use their judgement to avoid blunders that may cost them their lives. When it was ultimately discovered that Titans may have in fact once been human beings, Levi appeared to be mortified by the news.
Because of his hazardous profession, this belief has caused him to care greatly for his subordinates. When ordered to make an early retreat to the wall during the 56th expedition, Levi was visibly frustrated with the fact that his soldiers had died for the sake of a fruitless mission. He was also willing to resort to violence in order to save Eren from being killed at his tribunal, though he bore no malice towards him. Levi was also shown to greatly disturbed by the loss of his entire special squad, and risked his well-being for the sake of protecting Mikasa from the Female Titan, resulting him to sustain an injury. He has also stated that he carries the will of his fallen comrades, and that their collective grudge against the Titans gives him the strength to continue to fight.
While Levi shows loyalty and consideration for his comrades, he shows no mercy towards the Titans, slaughtering them indiscriminately with an obvious indifference. When dealing with individuals he perceives to be enemies to mankind, Levi's behaviour becomes sadistic, and even vindictive. When The Female Titan is captured, Levi jeers her by describing how he would mutilate her human body, and how he enjoyed watching her suffer.
Though Levi is aware that his battle skill is in a different league from almost any other human soldier alive, he is not particularly arrogant, as he knows through experience that no soldier can be invulnerable. Few will argue with his claims that only he can handle certain difficult tasks, simply because they know his words are far from empty. He also seems to have an independent mindset, as many of his hunts result in solo kills, with little direct cooperation with other soldiers .
Levi is rumored to have originally lived like a thug and participated in underground crime before he became a soldier. He was eventually approached by Erwin Smith to join the Survey Corps.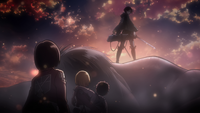 When Eren gets out of his Titan body and is surrounded by Titans, Levi comes back from his tour and rescues the group from them. Later on, after Eren wakes up in a cell, Levi insures him that the higher-ups will let him join the Survey Corps and that he will make sure Eren doesn't get out of hand. During the trial, after Eren gets out of hand with his words, he assaults Eren, much to Mikasa's anger, as he teaches him his place. This was just an act to get the people to think that Levi can keep Eren down and that the police force cannot, assuring them that the Survey Corps will take care of him.
Levi then assigns a new elite group that will protect Eren in their next tour. During their stay at the castle, Levi makes sure Eren is kept tamed and makes him sleep in the dungeon. Everyone in his special team respects him, and one of them even tries to talk like him, albeit failing at it. Levi was one of the only people that weren't afraid of Eren when he turned into a Titan, and he took charge quickly by calming the team down.
During the expedition to go in and out of the wall, Levi and his team lay in the back of the formation, not seeing any danger for a while. It wasn't until they got to the forest that they encountered the Female Titan. Eren could have defeated her at that time, but Levi's team tries to convince him otherwise. Levi later gave him the right to choose his next action. Later on, after capturing the Female Titan, Levi and Mike tried to cut her nape but they failed. The Survey Corps then retreated after the Female Titan screamed and got devoured by a large group of Titans.
After the female Titan came back and killed Levi's team members and kidnapped Eren, Levi and Mikasa both joined forces to get Eren back. Levi told her not to try to kill it since they probably couldn't, so they decided to cut it up and get Eren out of her mouth. After many simultaneous attacks, Levi was able to take Eren out of her mouth and retreat with the others.
During their retreat in returning to Karanese District, the remaining Survey Corps members were chased by several Titans after one of its scouts went out to retrieve back the body of his fallen comrade. As the Titans closes in on one of the carts, Levi ordered to discard the dead bodies of their deceased members to lighten the weight of their cart and outrun the chasing Titans. After doing so, the cart was able to get some distance with the Titans as Levi can only witness Petra's 's body being thrown away.
Reaching Karanese, while the Survey Corps is shunned by the public for their mission failure, Levi is approached by Petra's father happily telling the captain of his daughter's devotion to Levi and his slight disapproval from the idea of Petra getting married in an early age. Meanwhile, Levi just stares ahead with a mortified look on his face. This somewhat suggests that Petra had intentions of marrying Levi.
Days before being sent to the capital for Eren's trial, Levi, along with Erwin, Eren and other fellow subordinates were informed by Armin of the Female Titan's true form - Annie Leonhardt.  Levi questioned whether to go on with the plan to subdue Annie despite not having much evidence and information.
During the Female Titan's raid on Stohess District, Levi was alongside Erwin during his arrest lead by Nile Dawk. Afterwards he detached Eren from his Titan form as the latter was about to devour Annie, if he had not interfered. He then remarked about their mission not being a total success to Erwin.
Levi then took time to recover from an injury which he sustained while saving Mikasa from Annie's attack. He is later tasked to escort Pastor Nick and obtain information regarding the secrets he knows about his cult.
After successfully retrieving Eren from Reiner and Bertholdt after a near-suicide mission, Levi is with Erwin who is currently recovering after the loss of one of his arms. They are then informed by Hange of her theory of the true origins of the Titans - which were humans. Much to their shock , Levi acted confused on Erwin's reaction, calling it "creepy". He then notified the commander of his newly formed Special Operations Squad to protect both Eren and Historia.
Abilities
Edit
3D Maneuver Gear
Edit
Levi is excellent at using the 3D Maneuver Gear, to a point that everyone says he is the best at it. He is also said to be as valuable as an entire brigade, far outweighing all of the other soldiers. He is said to have been extremely strong even before joining the Survey Corps.
He has shown the capability of incapacitating Annie Leonhardt in her Titan form, something which whole squads and even Eren in his Titan form couldn't accomplish.
Levi's Statistics[2]:
| | | |
| --- | --- | --- |
| Battle Skill | | 11/10 |
| Agility | | 10/10 |
| Strategy | | 8/10 |
| Teamwork | | 2/10 |
| Cleanliness | | 10/10 |
(To Eren) "I don't know which option would you choose. I could never advise you on that... no matter what kind of wisdom dictates you the option you pick, no one will be able to tell if it's right or wrong until you arrive to some sort of outcome from your choice."
"The only thing we're allowed to do is to believe that we won't regret the choice we made."
He is attributed with the literal title of "leader of the soldiers" (兵士長 heishichō) amongst the Survey Corps. This title is often shortened and translated as "Captain" (兵長 heichō), and it is the title that he is commonly referred to by his comrades.
His name is Hebrew in origin, and means "attached" or "joining". 
"Levi" is also a diminutive of the Hungarian given name "Levente", which means "existing" and is Slavic in origin.
In a conversation he had with Petra's father, Levi learns that Petra sent a letter to her father detailing how she had intended to devote her life to him ever since joining his squad; which in turn, caused her father to muse that she might have been too young to get married while voicing his disapproval of his daughter forming a serious relationship. It was implied by her father that the contents of her letter may have been romantic in nature and that she may have held feelings for Levi.
Levi's motif was based on Rorschach, a character from Watchmen.
His name has been inspired by a character of the American documentary 'Jesus Camp'.
Levi's age is one of several mysteries Isayama has hinted about in interviews. He has stated that Levi is "surprisingly old", but has declined to give an exact answer.
References
Edit