Home
Talk

0
159pages on
this wiki
| | |
| --- | --- |
| | Spoiler Alert: This wikia contains details about future plotlines described in the manga. Do not proceed unless you want to be spoiled. |
Welcome to the Shingeki no Kyojin Wiki!

Please be aware, before progressing any further on the Shingeki no Kyojin Wiki, that this site contains heavy SPOILERS.
Portal
Introduction
| | | |
| --- | --- | --- |
| | Several hundred years ago, humans were nearly exterminated by titans. Titans are typically several stories tall, seem to have no intelligence, devour human beings and, worst of all, seem to do it for the pleasure rather than as a food source. A small percentage of humanity survived by walling themselves in a city protected by extremely high walls, even taller than the biggest of titan. Flash forward to the present and the city has not seen a giant in over 100 years. Teenage boy Eren and his foster sister Mikasa witness something horrific as the city walls are destroyed by a colossal titan that appears out of thin air. As the smaller titans flood the city, the two kids watch in horror as their mother is eaten alive. Eren vows that he will murder every single titan and take revenge for all of mankind. Nominated for the 4th Manga Taisho Awards (2011) and won the Kodansha Manga Award shōnen category (2011). In English the series is roughly translated to 'Attack on Titan'. | |
Featured Article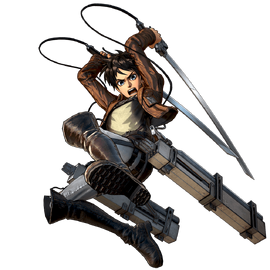 Eren Jaeger (エレン・イェーガー, Eren Yēgā?) is the male protagonist of the series. He is from Shiganshina District, a town of the outer most wall, Maria. His closest friends Mikasa and Armin both joined the Scouting Legion with him after having their town annihilated by the Titans. He holds a personal vendetta against all titans and his goal is to annihilate them from the earth.
Personality
Eren is best described as hardheaded and impulsive, which are both attributes of his strong determination to protect mankind and eventually leave the walls. In chapter 1 he was was so intent on joining the Scouting Legion that he argued with and shouted at his mother referring to the people in the village as "silly".  He gained the desire to kill and destroy the race after witnessing her death. He cares greatly for his comrades and continuously risks his life to save them. At a young age he displayed violent behavior in order to save Mikasa. Now that violence and anger is directed at the Titans.

Latest Chapter
Punch, Throw, Lock is the 44th chapter of Shingeki no Kyojin, it follows the fight between Eren Jaeger and Reiner Braun.
Summary
As Eren is being beaten own upon by Reiner, he has a brief flashback of when Annie taught him how to fight. Within the flashback, there is controversy as Mikasa challenges Annie to a fight to see hich o the two I stronger. Annie accepts the challenge and the two get in a battle stance. The flashback is short lived though as Eren gets up and continues his attempt to bring down the Armoured Titan. The spectating couts try to convince Eren to retreat by Eren ignores them and continues to battle. The tables turn as Eren starts to ip Reiner apart with a series of locks an throws, even cracking his face with a punch, however, Reiner unleashe a desperate cr for help and the chapter ends with Bertholdt performing a 60m body press as the colossal.
Latest Episode
Night of the Disbanding is the fourth episode of the Shingeki no Kyojin anime. It is produced by Wit Studio and Production I.G. This episode portrays the last days of the 104th Trainees Squad and the appearance of the Colossal Titan at Trost District.
Summary
The episode starts in the year 850 or 2 years after enlistment as the trainees are undergoing a fitness assessment.  The trainees are doing a run with packs, but Armin is exhausted and is scolded by their instructor, Keith Shadis.  Shadis critiques the overall abilities and teamwork demonstrated by each trainee as they continue the assessment in Titan search and destroy.
The next scene shifts to the trainees practicing hand-to-hand combat as Eren disarms Reiner.  As they switch roles, Eren remarks on the useless of learning anti-human combat as well as attacking an armed foe bare-handed.  A blurry memory of a young Eren standing over a man's body with a broom sticking out of it is quickly shown.
Featured Image
Poll
Who is your favourite Soldier?
Shingeki no Kyojin Wiki News
An anime adaptation is currently in progress, release date is planned for the 6th of April 2013, for more information visit here.
The anime will be aired every Saturday starting from April 6th 2013.
Recent Blog Posts