Home
Talk

80
360pages on
this wiki
Introduction
| | | |
| --- | --- | --- |
| | Several hundred years ago, humans were nearly exterminated by Titans. Titans are typically several stories tall, seem to have no intelligence, devour human beings and, worst of all, seem to do it for the pleasure rather than as a food source. A small percentage of humanity survived by walling themselves in a city protected by extremely high walls, even taller than the biggest Titans. Flash forward to the present and the city has not seen a Titan in over 100 years. Teenage boy Eren and his foster sister Mikasa witness something horrific as the city walls are destroyed by a Colossal Titan that appears out of thin air. As the smaller Titans flood the city, the two kids watch in horror as their mother is eaten alive. Eren vows that he will murder every single Titan and take revenge for all of mankind. Nominated for the 4th Manga Taisho Awards (2011) and won the Kodansha Manga Award shōnen category (2011). In English, the series is roughly translated to 'Attack on Titan'. | |
Featured Article
Latest Chapter
Flash Point is the 60th chapter of the Attack on Titan manga, written and illustrated by Hajime Isayama.
---
Levi and his squad successfully infiltrate the Central Military Police's base. Levi doesn't want to kill the members so they make sure that they won't be able to walk for a while. But they still can't find Eren and Historia. Levi questions a Central Military Police member about the location of Eren and Historia. Levi is shocked when the guy reveals the name of Kenny Ackerman. Then Sasha hears footsteps and three Military Police members appear. Meanwhile from the Stohess news agency, young Beaure asks his chief why he wanted to become a journalist. Suddenly, squad leader Hange Zoë and her subordinate Moblit appear. Hange makes an offer, follow them for the day and write about what they see. In the Trost District, Flegel Reeves surrenders to the Central Military Police Brigade. He acts as a decoy and everyone in the surrounding area learns that the Survey Corps is innocent and the Central Military Police Brigade killed Dimo Reeves. Then Hange and Moblit save Flegel from the corrupt Military Police. Hange wants Chief Roy to report this in their news, but he refuses and reveals to Hange that there is a secret tunnel located beneath the walls. Elsewhere, Erwin appears beaten up with a black eye before a court, presumably on trial. King Fritz then asks if he has any last words before his execution.
Read the full summary here.
Featured Episode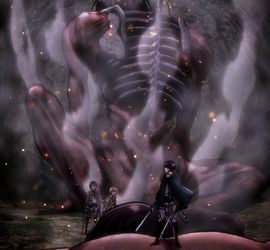 Primordial Desire is the thirteenth episode of the Attack on Titan anime. It is produced by Wit Studio and Production I.G.
---
While soldiers continue to die in order to protect Eren, Jean attempts to take the 3D Maneuver Gear of a dead soldier in order to escape. Marco arrives to assist him, soon followed by Annie and Connie and together, they manage to evade the Titans and escape to the top of the wall. That is when Eren finally picks up the boulder and heads towards the hole, followed by the soldiers determined to die. Eventually, the hole is plugged up and Mikasa, Armin and Rico Brzenska find themselves protecting Eren against a horde of Titans, until Levi arrives to slay them. After the operation, soldiers have to gather the corpses and it is revealed that Marco is one of them, much to Jean's shock. Some time later, Eren wakes up in a cell and after expressing his desire to kill Titans, Levi decides to take care of him as his Captain of Survey Corps.
Read the full summary here.
Featured Image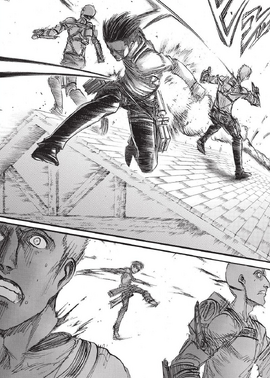 Poll
Which of the following anime episodes did you like the most? (Part 4)
Do you think Eren and Historia will be rescued?
News About Series
Latest Attack on Titan manga chapter entitled "Flash Point" has been released! It can be read legally and for free at Crunchyroll Manga website here.
Wiki News
Notice The latest chapter, Gunfire, has been released. Come and discuss it here!