Home
Talk

47
305pages on
this wiki
Introduction
| | | |
| --- | --- | --- |
| | Several hundred years ago, humans were nearly exterminated by Titans. Titans are typically several stories tall, seem to have no intelligence, devour human beings and, worst of all, seem to do it for the pleasure rather than as a food source. A small percentage of humanity survived by walling themselves in a city protected by extremely high walls, even taller than the biggest Titans. Flash forward to the present and the city has not seen a Titan in over 100 years. Teenage boy Eren and his foster sister Mikasa witness something horrific as the city walls are destroyed by a Colossal Titan that appears out of thin air. As the smaller Titans flood the city, the two kids watch in horror as their mother is eaten alive. Eren vows that he will murder every single Titan and take revenge for all of mankind. Nominated for the 4th Manga Taisho Awards (2011) and won the Kodansha Manga Award shōnen category (2011). In English, the series is roughly translated to 'Attack on Titan'. | |
Featured Article
Anka Rheinberger (アンカ・ラインベルガー, Anka Rainberuga?) is a member of Garrison and one of the Dot Pixis's escorts, the other being Gustav.
Not much is known about her personality, however, as a soldier, Anka is shown to express little to no emotion, except for the moment when she learns of the gate breach in Trost District, which leaves her surprised. She seemingly follows orders without any objections, not questioning Pixis for going with such an uncertain plan as plugging the gate, however, she also understands the feelings of other soldiers, stating that there is a limit to how much one can be motivated by fear. (...read more)
Latest Chapter
Squad Levi is the 51th chapter of Shingeki no Kyojin written and illustrated by Hajime Isayama.
---
The soldiers finally return after Eren's rescue, albeit in a terrible state and with a lot of casualties. Eren blames himself for allowing to be captured, however, after Jean and others speak to him about the possible ability of him controlling the Titans, he regains his resolve. Meanwhile, it is revealed that humanity would barely have enough food to support the refugees for a week if Wall Rose were to fall. Dot Pixis reveals these details to Erwin. Levi expresses pity at Erwin's lost arm, but Erwin claims it's a small price for all the soldiers that have died due to his orders.
They are joined by Connie and Hange who reveal the possibility of Titans being humans completely fused within their body. This theory is supported by the events in the Ragako Village as all the humans have seemingly turned into Titans, including Connie's parents, much to his sorrow. Levi then reveals to Erwin that his team has been remade with several members of the 104th Trainees Squad members in order to watch over Historia and Eren. Far away from any civilization, Eren is reminded of the original Levi Squad as his new team bickers among themselves.
Final Episode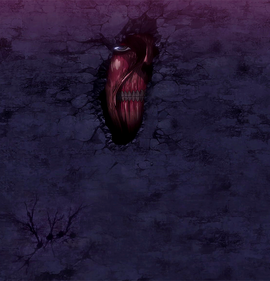 Wall is the twenty-fifth and final episode of the Attack on Titan anime. It is produced by Wit Studio and Production I.G.
---
As a shrine inside the Stohess District gets crushed during the ongoing battle of Eren and Annie, a priest watches the Titans reaching walls, much to his horror. Eren and Annie find themselves in a fight yet again, with the former questioning the latter's motives. Meanwhile, Erwin continues facing Nile Dawk as the Military Police Commander blames him for this destruction. Eren and Annie exchange blows, until Annie, reminded of her pasts, delivers critical strikes. However, Eren, remembering his goal, recovers at extremely fast pace and charges at Annie with great power.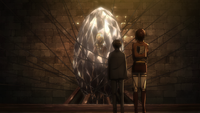 In spite of his efforts, Annie reaches the wall and begins climbing it in order to escape. Mikasa doesn't let this happen as she quickly cuts off Annie's fingers. On the ground, Eren just barely stops himself from eating Annie, with the latter encasing herself in a crystal afterwards. The soldiers soon learn that they cannot get any information while Erwin is questioned about his actions. Meanwhile, Eren judges his actions in the battle, with Mikasa accompanying him as Armin and Jean discuss the needed sacrifice. However, there is a danger that they do not about as unbeknownst to them, there is a Titan lurking inside the wall.
Featured Image
Poll
Which of the following anime episodes did you like the most?
Shingeki no Kyojin Wiki News
Latest Shingeki no Kyojin manga chapter, entitled "Krista Lenz", has been released! It can be read officially for free at Crunchyroll Manga website here.
A special anime episode entitled "Ilse's Notebook", has been released as a bundle with a limited edition of the 12th volume of the manga.

Likewise, the 13th volume will come with another OVA about the 104th Trainees Squad. Release date is due April 9, 2014.