Please be aware, before progressing any further on the Shingeki no Kyojin Wiki, that this site contains heavy SPOILERS.
Only

August 7 2015 00:00:00 -600

for the Japanese release of Volume 17!
More events >
Join us on our social networks!
| | | | | |
| --- | --- | --- | --- | --- |
| Facebook Page | Facebook Group | Twitter | Google+ Page | Google+ Community |
Introduction
| | | |
| --- | --- | --- |
| | Several hundred years ago, humans were nearly exterminated by Titans. Titans are typically several stories tall, seem to have no intelligence, devour human beings and, worst of all, seem to do it for the pleasure rather than as a food source. A small percentage of humanity survived by walling themselves in a city protected by extremely high walls, even taller than the biggest Titans. Flash forward to the present and the city has not seen a Titan in over 100 years. Teenage boy Eren and his foster sister Mikasa witness something horrific as the city walls are destroyed by a Colossal Titan that appears out of thin air. As the smaller Titans flood the city, the two kids watch in horror as their mother is murdered and eaten. Eren vows that he will exterminate every single Titan and take revenge for all of mankind. Nominated for the 4th Manga Taisho Awards (2011) and won the Kodansha Manga Award shōnen category (2011). In English, the series is roughly translated to 'Attack on Titan'. | |
Latest Chapter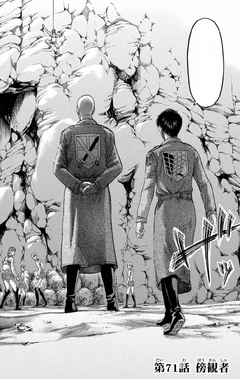 Bystander is the 71st chapter of the Attack on Titan manga, written and illustrated by Hajime Isayama.
---
Keith Shadis tells Eren and Squad Levi everything he knows about Grisha. 20 years ago, Grisha was wandering outside Wall Maria with amnesia, and Keith took him in and introduced him to the life within the Walls. Grisha got a job as a doctor and some time later saved Shiganshina from a plague, including Carla. They fell in love and eventually married. Keith became the commander of the Survey Corps, but continued suffering great losses and had a discussion with Carla about it, during which he meets her baby, Eren. After years of disastrous expeditions, Keith resigned and passed his position to Erwin. On that day, Wall Maria fell, and Keith found Grisha among the fleeing crowd. After finding Eren and learning of Carla's death, Grisha led his son to the forest while Keith waited outside. Seeing the lightning of Eren's Titan transformation, Keith entered the forest and found Eren unconscious with no trace of Grisha, so he took him back to the shelter and left. Back in the present, Keith tells Eren about Carla's last words to him, and remembers the time when he sabotaged Eren's 3DMG balancing test to prevent him from joining the military to save his life, but changed his mind after witnessing Eren's immense will.
Read the full summary here.
Featured Article
Keith Shadis (

キース・シャーディス

Kīsu Shādisu

?

) is the head instructor of the 104th Trainees Squad. He is in charge of their training and evaluation to become soldiers. He is the former Commander of the Survey Corps and was in command when Wall Maria fell in 845.
---
In the year 845, Keith, Commander of the Survey Corps, returns through the Shiganshina District after leading a failed expedition outside the Walls. His surviving troops trudge through the town in defeat, most injured, and are observed from a distance by a young Eren and Mikasa.
Read the full article here.
Latest Episode
A Choice with no Regrets (Part 2) (

悔いなき選

Kuinaki Sentaku

)

is an OVA, episode 0.5B, of the Attack on Titan anime. It was produced by Wit Studio and Production I.G, and it is the continuation of A Choice with No Regrets (Part 1), released on December 2014.
---
Levi, Farlan and Isabel have joined the Survey Corps and are put under the command of Squad Leader Flagon, much to the latter's displeasure. As the Survey Corps begin preparations for the 23rd Expedition beyond the Walls, the former thugs plan to kill Erwin Smith and steal some documents during the expedition, as this was the job they were assigned to. Levi worries for his friends' safety, but they convince him to trust them and they join the expedition. The trio demonstrate their abilities in 3D Maneuver Gear and quickly kill some Titans. That day, the Survey Corps are caught in a heavy rain, and Levi takes advantage of this and leaves his friends to try to murder Erwin on his own. [...]
Read the full summary here.
News about the series
Aug 1, 2015 - August starts strong: the Attack on Titan live-action movie premiered today in Japanese theaters; Junior High will be adapted to anime; trailer for Counter Rockets; and manga sells over 50 million copies. Read all these news here.
Jul 23, 2015 - Why Levi is not in the live-action movies? Screenwriter Tomohiro Machiyama finally answered the question. Read his explanation here.
News about the Wiki
Mar 29, 2015 - Collaborate with the Shingeki no Kyojin Wiki and win cool badges! Find all the information about this new feature here.
Mar 20, 2014 - We have a new forum where you can discuss with your friends of the Shingeki no Kyojin Wiki!
Featured Image
Young Hannes at Grisha and Carla Yeager's wedding, while Keith Shadis leaves
Chapter 71 Poll
What was your favorite scene from chapter 71 "Bystander"?
Recent Blog Posts
Create blog post
Blogs
August starts strong for Attack on Titan, and several interesting news have been released these days about our favorite series. Along with the premier…

Read more >

I'm hyped as heck for all this stuff that takes forever to come out, dammit!

Season 2, the next chapter, who the hell the Beast is, and also Steins;Ga…

Read more >

Ever since the cast of the Attack on Titan live-action movie was revealed, there is a question that fans have been constantly doing without finding e…

Read more >
See more >