Home
Talk

59
322pages on
this wiki

Introduction
| | | |
| --- | --- | --- |
| | Several hundred years ago, humans were nearly exterminated by Titans. Titans are typically several stories tall, seem to have no intelligence, devour human beings and, worst of all, seem to do it for the pleasure rather than as a food source. A small percentage of humanity survived by walling themselves in a city protected by extremely high walls, even taller than the biggest Titans. Flash forward to the present and the city has not seen a Titan in over 100 years. Teenage boy Eren and his foster sister Mikasa witness something horrific as the city walls are destroyed by a Colossal Titan that appears out of thin air. As the smaller Titans flood the city, the two kids watch in horror as their mother is eaten alive. Eren vows that he will murder every single Titan and take revenge for all of mankind. Nominated for the 4th Manga Taisho Awards (2011) and won the Kodansha Manga Award shōnen category (2011). In English, the series is roughly translated to 'Attack on Titan'. | |
Featured Article
Levi (リヴァイ, Rivai?, often incorrectly romanized as Rivaille) is a leading soldier in the Survey Corps, and is said to be humanity's most powerful soldier. He is also the leader of the Special Operations Squad.
Levi is described to be a "clean-freak" by those who know him on a personal basis, as he prefers his environment to be spotlessly clean. He is averse to having either his person or his equipment soiled, and has been known to wipe down his blood-smeared blades while still on the battlefield. However, he will not hesitate to touch filth if he deems it necessary. Instances of this include him rescuing a phlegm-coated Eren from the Female Titan's maw, and grabbing a subordinate's bloody hand as he comforted him during his last moments. He is always seen wearing simple white cravat, which gives him an air of being "prim and proper". (...read more)
Latest Chapter
The Counterattack's Target is the 54th chapter of Shingeki no Kyojin manga written and illustrated by Hajime Isayama.
---
Historia as a child sits with an unknown woman, who taught her how to read. Then the woman leaves. Current time, Historia wakes up, unable to remember her dream but knows it was important. She and Eren talk, and Eren says he prefers her now to her when she was trying to be all perfect Krista. The Reebs Company men go to make sure their captured Eren and Krista are the real ones, but are ambushed by Levi and some others. Levi takes the president of the company to sit on the wall, they talk, and Levi convinces him to help, and says he'll give them Eren and Krista under three conditions.
Featured Episode
First Battle is the fifth episode of the Attack on Titan anime. It is produced by Wit Studio and Production I.G.
---
After 5 years, the Colossal Titan appears one more time. Eren, intending to deal with it on his own, quickly realizes that his opponent is actually intelligent. Before he can strike a fatal blow, the Colossal Titan disappears in a sudden burst of steam. The soldiers, along with the new recruits, then ready themselves to deal with the threat. While they are being assigned to squads, Dot Pixis hears of the news and quickly decides to head to the frontlines, much to the dissatisfaction of Lord Balto. Meanwhile, the recruits despair, having to go face the Titans. Mikasa is forced to leave Eren, being assigned to the rear squad.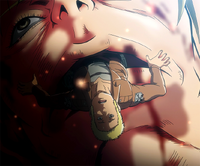 While waiting for orders, Eren recalls the classes of dealing with Titans. He then talks to Armin, stating that this is their chance. They and their squad are then ordered to assist the frontline guards. While on their move, they are attacked by an Abnormal Titan, who, much to everyone's shock, devours Thomas. In a fit of rage, Eren tries to avenge him, however, he is also attacked by a Titan while in midair. One after one, the rest of his squad falls, including Armin. At that moment, Eren remembers how Armin let him see a book about the outside world, wishing to go there one day. He stands up and manages to get Armin out of the Titan's mouth. Although he swears not to die there, the Titan shuts its mouth with Eren inside, bitting off his arm, much to Armin's horror.
Featured Image
Poll
Which of the following anime episodes did you like the most? (Part 2)
Who do you think is the mysterious woman from Eren's memories?
News About Series
Wiki News
Notice In accordance to our Spoiler Policy, no information about the newest chapter may be posted on the wiki until it's available on the web in English. Please respect other readers who do not wish to have the chapter spoiled for them!