Welcome to my talkpage! Feel free to leave a message here. I'll respond as soon as I can!
Welcome to my Talk Page!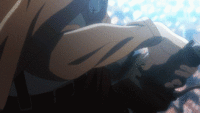 Hello! Welcome to my Talk Page! When you leave a message on my page, please always remember to:
Be polite

Yo minna! Please feel free to message me any time! :D

Added by

Miskos3

No insulting

No cursing or any swear words

Be clean

I'm currently semi active!

Be patient for a reply! 

                                                       
And most importantly, please do:
Thank you for your cooperation!
Welcome to Shingeki no Kyojin, DarkShadow28!
Welcome to Shingeki no Kyojin! Thanks for your edit to the User:Snow.angel97 page, and thanks for joining our community! There's a lot to do around here, so I hope you'll stay with us and make many more improvements.

Wiki Activity is a great first stop, because you can see what pages other people have been editing, and where you can help.
Got any questions? Feel free to contact an Administrator for help.
Sign your name in discussions by typing ~~~~, which automatically adds your signature and the date, so we know who's talking!

Please leave a message on my talk page if I can help with anything! Miskos3 (talk) 16:50, October 13, 2013 (UTC)